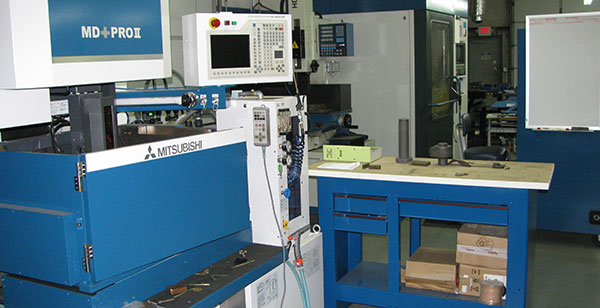 Got an un-millable shape?
Then spark-erode your part's more elusive cutting locations
Crow provides Wire electrical discharge machining (EDM) services for a variety of industries and applications.
You can Wire EDM your parts cleanly, up to 31.5"L x 23.2"W x 8.5", with thicknesses of 8.5" and 1100 lbs.
Manufacture Graphite Electrodes
You may also create your own graphite electrodes in-house for your specific RAM/Sinker EDM jobs using our mini-mill.
Typical lead times are 5 to 15 business days, with rush service available.
Your parts go through an exhaustive testing process and are inspected with a magnifying glass (or nearly so) for quality and accuracy; this includes both Coordinate Measuring Machines (CMM) and FabriVISION scanning of your parts.
Need to make some evasive cuts? See our capabilities table below then request a quote online or contact the Director of Sales.
"No one succeeds alone and no one fails alone. Pay attention to the people around you."

--Gary Keller, The One Thing, p. 204
Processes
Equipment Capabilities

CNC Controlled
Cutting Axis

Materials (Metals)

Carbon Steel
Stainless Steel
Aluminum
Inconel
Titanium
Other Exotic Alloys

Material Thickness - Wire up to 8.5 in.
Workpiece Length - Wire up to 10 in.
Workpiece Width - Wire up to 13 in.
Workpiece Height - Wire up to 8.5 in. .
Workpiece Weight - Wire up to 1105 lbs.
Surface Finish - 16, 32 or 63
Tolerance (+/-) .0005

Machine Weight
Inspection

Coordinate Measuring Machines (CMM)

Quality Control
Additional Services Provided

Engraving
Project Consulting
Wet Painting

Secondary Finishes
Powder Coating
Sandblasting
Graining

Production Volume
Typical Lead Times

5-15 Business Days (depends on material availability)

Industry Focus

Oil & Gas
Energy or Alt. Energy
Offshore
Medical

Construction
Architecture

Intended Applications

Special Cutters
Custom Tooling
Fixtures
Gaskets
Gears
Precision Keyways
Burn-Free Slot in Threaded Area

Hubs
Internal Splines
Hexes
Tooling Plates
Robotic Parts
Thread Gages
Special Carbide Form Tool
Difficult-to-Machine Shapes

Industry Standards
File Formats

.DXF, a Manila Folder or a Bar Napkin

&/or any other Filing Format (.STP, .DWG, .IGS, .PRT, etc.)

Software

AutoCAD Inventor
Gibbs Cam
Master Cam