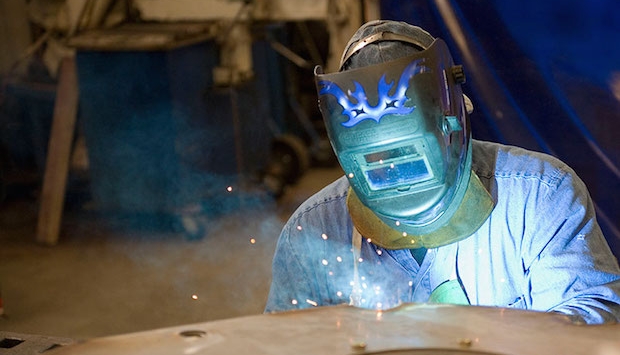 Got a laser -- press brake -- weld job?
You get quick turnaround here with your custom metal fabrication / welding work.
You can cut, punch, bend, burn, form, and stamp your jobs when your materials are carbon, stainless or aluminum (most frequently fabbed materials here).
The Crow fab shop shapes your work up to 20' in diameter, 12' high and 0.75" thick, with weights up to 10,000 lbs., in multiple raw forms including coil, sheet, bar stock, tubing, and plate.
And your weld work is performed by AWS D1.1 (Class 1 & 2 Materials) certified welders, who provide TIG, MIG, and Flux Core welding.
Finishing services are also available in the Crow fab shop including: Blasting, Wet Painting, and Graining.
When you need parts quickly (1 - 4 weeks), Crow is the answer. Rush and emergency services are also available.
Our shop is an ISO-compliant, state-of-the-art facility where full testing and quality assurance protocols ensure the integrity of your end products and our processes.
Crow already delivers these services to many of Houston's critical industries like:
oilfield (drillers/transporters/storage/refiners)
wastewater / water treatment
petrochemical
energy
alternative energy sectors
and offshore
medical
architectural
retail
and more
So if you want a fast response for your custom metal fabrication and welding services, please request a quote online or contact the Director of Sales.
General Capabilities

Large Parts
Heavy Components
Fabrication Method
Cutting
Punching
Bending
Forming
Press Braking
Sawing

Laser Cutting
Water Jet Cutting
Stamping
Welding Processes
GTAW (TIG)
GMAW (MIG)
GMAW/FCAW (Flux Core)
Welding Certification
AWS D 1.1 (Class 1 & 2 Materials)

Raw Material Forms
Tubing

Stainless Steel
Aluminum
Carbon Steel
Finishes

Sand Blasting
Graining
Polishing
Painting

Work dimensions

Up to 3/4" in thick
Up to 20 ft in diameter
Up to 12 ft height
Weight up to 10,000 lbs

Inspection

Coordinate Measuring Machines (CMM)
Quality Control
FabriVISION Scanning

Additional Services Provided

Laser Marking
Engraving
Etching
Part Identification
Assembly

Project Consulting
Secondary Finishes
Blasting
Wet Painting
Graining

Production Volume

Short Run to High Volume
Typical Lead Times

1 to 4 weeks
Rush Services Available

Additional Information and Industry Focus

Oil & Gas
OEM
Alternative Energy
Offshore
Medical
Construction
Architecture
Intended Applications
Skids
Consoles
Frame Assemblies
Pipe Assemblies
Pipeline Treatment Machines
Platforms
Walkways
Conveyors
Custom Tanks
Instrument Panels

Replacement Parts
Boxes
Fixtures
Artistic Designs
Enclosures
Brackets
Mold Plates
Robotic Parts
Scientific Applications
Other Sheet Metal Parts
Industry Standards
ISO Compliant
AWS
File Formats
Gibbs Cam
Master Cam
AutoCAD Inventor
Metamation