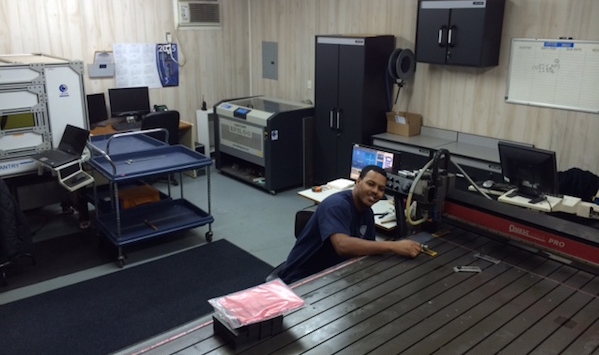 "Finishing" is just jargon that doesn't even scratch the surface about all you can have done here to your parts.
Laser Marking - Engraving - "Other Finishing Services"
Crow offers specialty finishing to achieve the exterior you require for improved appearance &/or optimum performance.
As Crow also provides polishing, graining, deburring, sandblasting, wet painting, vibratory smoothing, and powder coating--all performed on your manufactured projects on materials such as steel, stainless steel, aluminum and copper, etc.
If we build it, then we can finish it. From delicate parts to large units.
"Other Finishing Services'" Capabilities
Maximum sandblasting dimensions are 30' x 8'
Wet finishing is possible up to 35" x 12"
Dry finishing capabilities are up to 10' x 5'.
Your most typical lead times are from 1 to 4 weeks, with rush service available as always.
Stringent industry standards are priority for your parts, with thorough testing and dedicated QC personnel to ensure you receive the best product quality.
We also offer on-site inventory services, including assembly and kitting, or handling the complete manufacturing cycle.
Want to finish your parts with veneer-like elegance? Request a quote online or contact the Director of Sales.
"Many disagreements in human affairs turn not on differences in data or logic but HOW a problem is framed (emphasis mine)."--Steven Pinker, The Stuff of Thought, p. 243
Type of Finishing Service

Graining
Polishing
Deburring
Tumbling
Vibratory

Sandblasting
Wet Painting
Powder Coating
Assembly
Kitting

Substrate

Steel
Stainless Steel
Aluminum
Copper
Others

Sandblasting Length - Up to 30 ft
Sandblasting Width - Up to 8 ft
Wet Finishing Length - Up to 35 in
Wet Finishing Width - Up to 12 in
Dry Finishing Length - Up to 10 ft
Dry Finishing Width - Up to 5 ft

Inspection

Coordinate Measuring Machines (CMM)

Quality Control
Additional Services Provided

Laser Marking
Engraving
Etching

Assembly
Part Identification
Project Consulting

Production Volume
Deep Draw Circumference
Typical Lead Times