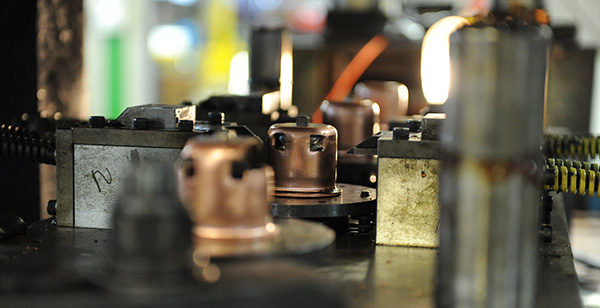 Crow's been stamping out bubble caps in Houston so long that . . .
. . . The Astros were still called the Colt .45s.
What this means for you is that veteran press operators, with 53 years of hindsight, stamp out your repeatable parts every day.
Stamping Capabilities
Do you need your sheet metal run through a Progressive die? Want it blanked, formed, or shaped by a cut off production process? Done.
Want your work deep drawn up to 18", with a 30" circumference? Done.
Have light or heavy gauge, heavy plate, or intricate metal work? Done.
Need access to coil fed presses up to 500 tons? With speeds of 90 strokes/min? Done.
How about press bed dimensions to 120"L x 48"W? Need 3" to 18" press strokes? Done and Done.
Material Types
Your high quality metal stampings come in:
aluminum
copper
titanium
carbon
stainless steels
Thicknesses vary up to 0.5" with sizes to 200"L x 12" W.
Press Operators
The standard tolerances for our pressmen are ±.015. Yes, our stamping operations are fully supported by a team of press professionals with decades of experience individually, to ensure high efficiency and best quality.
Quality
Your work passes through a "distillation tower" of testing and quality control protocols--before ever leaving our floor.
Typical lead times are 7 to 10 business days, with rush service available.
Industries Served
For 5-decades Crow's metal stamping services have been the bread and butter for industries such as:
Petrochemical
Oil & Gas
Alternative energy
Offshore
Medical
Construction
Finish your parts up with a tin, powder or phosphate coating--galvanize your work, sand blast, or wet paint all of it.
So if you have a line of redundant stampings you'd like to run through a competent press room,
" With big data, instead of precisely understanding why an engine breaks down or why a drug's side effect disappears, researchers can instead collect and analyze massive quantities of information…Big data helps answer what, not why, and often that's good enough…The possession of knowledge, which once meant an understanding of the past, is coming to mean an ability to predict the future."--Kenneth & Viktor Mayer-Schoenberger, (2013, May/June), The Rise of Big Data. Foreign Affairs, 29, 39
Production Method

Progressive Die
Deep Drawing
Blanking
Forming Die

Cut Off Die
Perforated Metal
Coil Feeding

Production Capabilities

Heavy Plate
Heavy Gauge
Intricate Parts

Press Rating - Up to 500 tons
Press Speed - 90 strokes/min
Maximum Press Stroke - 3 to 18 in
Maximum Press Bed Length - 120 in
Maximum Press Bed Width - 48 in

Materials

Steel
Stainless Steel
Aluminum
Copper
Titanium

Part Thickness - Up to .5 in
Part Length - Up to 200 in
Part Width - Up to 12 in
Deep Draw - Up to 8 in
Deep Draw Circumference - Up to 30 in
Tolerance (+/-) .015

Inspection

Coordinate Measuring Machines (CMM)

Testing

Non Destructive Testing (NDT)

Quality Control
Additional Services Provided

Laser Marking
Engraving
Etching

Assembly
Project Consulting
Part Identification

Secondary Finishes

Powder Coating
Sandblasting

Production Volume
Typical Lead Times
Industry Focus

Petrochemical
Construction

Possible Applications

Bubble Caps
Tower Internals
Washers
Valve Actuators
Erection Equipment

Tray Hardware
Valve Seats
Component Stampings
Pipe Collars

Industry Standards
File Formats

.DXF, a Manila Folder or a Bar Napkin

&/or any other Filing Format (.STP, .DWG, .IGS, .PRT, etc.)