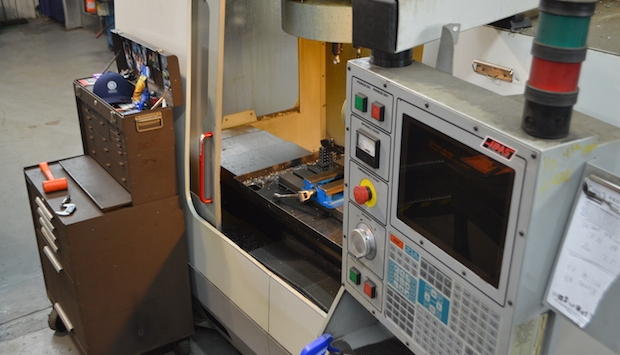 Machine your complicated work, where there is a . . .
. . . Knack for preicision CNC machining services.
Parts made here are found within industry all across the fruited plain.
CNC Mills
Because Crow CNC Milling equipment features 3 & 4 axis, machines up to 32" W x 30" H x 60" L, and supports 10,000 lbs.
Yes, complex parts are machined fast at ±.001" tolerances, with in-house fixturing and tooling (and other ancillary services).
CNC Lathes
Turn, burn and bore your work on 2 axis CNC lathes (with sub spindle, live tooling & bar feeder), machining up to 17" diameter and more than 50" in length.
Wire EDM
Even spark erode your work in the state-of-the-art wire EDM department, where no tool touches the parts.
So want to enlarge a hole, without hand or tool touching your part?
Also inspection equipment here includes Coordinate Measuring Machines (CMM) and the FabriVISION with expert QC personnel with decades of experience. Also your work can be calibrated with up-to-date measuring equipment.
Testing methods include
Hardness
Heat treating
Non-destructive testing (NDT)
All phases of manufacturing are carried out on-site, where most common steel materials are:
Carbon & stainless steels
Aluminum
Titanium
Other exotic materials
Typical lead times are 5 - 10 business days, with rush services also available.
Prototype parts, small run jobs or full production volume are all handled expertly and cost effectively.
So if your complicated drawings need precision CNC machining services, please request a quote online or contact the Director of Sales.
CNC Machining Capabilities

Machining Processes
Milling
Drilling
Tapping
Boring
EDM
Turning:

Contour Turning
Form Turning
Taper Turning
Straight Turning

Threading
Internal Forming
Knurling
Counterboring
Countersinking
Pocketing
Profiling
Facing
Equipment
CNC:

3-AxisMills
4-Axis Mills
2-Axis Lathes
5-Axis Lathes

Manual

Saws
Drill Presses
Turret Lathes
Equipment Capabilities
CNC Control Capabilities
High Precision
Fixturing
Three-jaw chuck
Four-jaw chuck
In-House Fixturing & Tooling
Materials
Carbon Steel
Stainless Steel
Aluminum
Titanium
Exotic Materials
Lathe Part Diameter - Up to 17 in
Lathe Part Length - Up to 60 in
Mill Part Width - Up to 32 in
Mill Part Height - Up to 30 in
Mill Length - Up to 64 in
Tolerance(+/-) .0001 in
Weight - Mills Support Up to 10,000 lbs
Inspection

Coordinate Measuring Machines (CMM)
Testing
Hardness
Heat Treating
Non Destructive Testing (NDT)
Quality Control
FabriVISION Scanning

Additional Services Provided

Grinding
Deburring
Laser Marking
Engraving
Etching
Part Identification
Assembly
Prototyping
Project Consulting
Secondary Finishes

Powder Coating
Blasting
Wet Painting
Graining
Production Volume
Short Run to High Volume
Prototyping
Typical Lead Times
5-10 Business Days
Rush Services Available

Industry Focus

Energy &/or Alternative Energy

Offshore
Oil & Gas (Upstream & Downstream)

Tool & Die

Medical
Moldmaking
Construction
Architecture

Intended Applications

Down-HoleTools
Specialty Piping Products
Replacement Parts for Valves
Tight-tolerance Parts
Custom Tooling
Gears

Hubs
Mold Plates
Injection Manifolds
Tooling Plates
Robotic Parts

Industry Standards

ISO Compliant
File Formats
.DXF, a Manila Folder or a Bar Napkin
&/or any other Filing Format (.STP, .DWG, .IGS, .PRT, etc.)
Software

Gibbs Cam
Master Cam
AutoCAD Inventor
Metamation