Manufacture high strength 4130 steel & hold a +/-.003" tolerance, in seven easy steps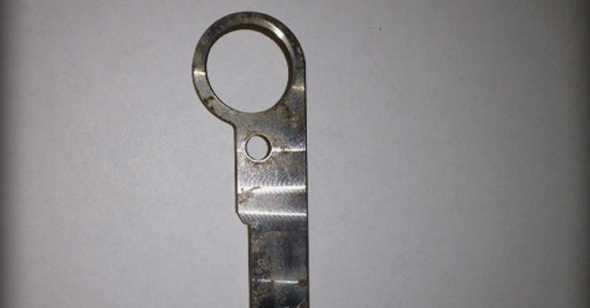 This steel component was made for a customer in the manufacturing industry, from high strength 4130 steel.
Many forming techniques created its unique geometry:
1. Laser Cutting
2. Wire EDM
3. Stamping
4. CNC Machining
5. Countersinking
When the dimensions 3.280" in length, 0.800" in width, and 0.215" in thickness were reached, and within + 0.003"/- 0.000" tolerances, the next operation was
6. Etching
Finally, the parts were brought to the required hardness by:
7. Heat Treating
These parts were ready to ship, after visual/dimensional inspections & hardness testing verified the critical quality parameters.
This component demonstrates the care and responsibility brought to every project, large or small.
For more information about manufacturing your parts contact us today.
Precision Fabrication Capabilities Applied/Processes

Primary:
Laser Cutting
Stamping
Grinding
CNC Milling
Drilling
Wire EDM
Countersinking
Secondary:
Etching
Heat Treating

Equipment Used to Manufacture Part

Laser, Wire EDM, Countersink, Etch

Overall Part Dimensions

Length: 3.280"
Width: 0.800"
Thickness: 0.215"

Tightest Tolerances

+ 0.003" / - 0.000"

Material Used

4130 Steel Plate

Material Finish

Raw/Machined

In process testing/inspection performed

Dimensional Inspection, Visual Inspection, Hardness Testing

Industry for Use

Manufacturing

Volume

100

Delivery Location

Brenham, TX

Standards Met

Customer Specifications, 2D CAD Drawing