Read from an executive stack of insider tactics ...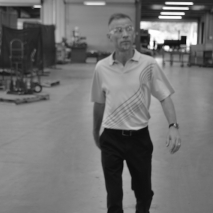 ... Where Crow's President Keith Jennings relentlessly writes scores of articles for the most acclaimed trade pub in the industry, Cutting Tool & Engineering (CTE).
And it is certain that from somewhere within these short "Manager's Desk" columns, your most skillful business stratagem will quickly emerge.
In fact go ahead and get ready to scrub your shop floor of all those pesky, uncalled-for crises that like to rear their ugly heads (read: preventable problems).
Why?
Because Jennings writes from Crow's fifty-three years of hindsight added to his two-decades-plus on the ELT around here (Executive Leadership Team).
He has been at the forefront to: Resolve. Innovate. Explain.
So what can you find here? You'll glean:
When's the best time to tweak your biz
How you can dismiss clamoring salesmen like a pro
Who should identify potential "red flags" in an RFQ
When it's a good time to peel sketchy employees
And why security isn't the only reason you need to install cameras in your shop
All of those real world topics and many more that impact your shop Jennings identifies, and quickly expounds.
Because you don't want to hobble through one of these handicaps when it bolts through your shop doors in 2015 do you?
Then read Jennings' stuff and make your coming 2015 shop problems vanish like scrap copper.
2015 Cutting Tool Engineering Articles
Published: March 2015

Protecting digital assets

Author: Keith Jennings

Machine shops need lots of tangible assets to make parts: machine tools, cutting tools and real estate, among other items. While a shop's tangible assets increase the value of the company, another asset may be as or even more valuable—digital records.
Published: February 2015

Discounts and increases

Author: Keith Jennings

I strive to start each year on a positive note, but 2015 sure hasn't taken long to throw us our first challenging management scenario.
Published: January 2015

Adapting to today's customer

Author: Keith Jennings

Welcome to the start of another year, where machine shops will be pushed to adhere to even stricter standards as customers deal with consolidation, relocation, certification, lean-system implementation and other versions of doing more with less.